posted by Claus Andersen in Alle
Warning
: preg_match() [
function.preg-match
]: Compilation failed: invalid range in character class at offset 4 in
/var/www/sydhavnstippen.dk/public_html/wp-content/plugins/lightbox-plus/classes/shd.class.php
on line
1384
Warning
: preg_match() [
function.preg-match
]: Compilation failed: invalid range in character class at offset 4 in
/var/www/sydhavnstippen.dk/public_html/wp-content/plugins/lightbox-plus/classes/shd.class.php
on line
1384
Warning
: preg_match() [
function.preg-match
]: Compilation failed: invalid range in character class at offset 4 in
/var/www/sydhavnstippen.dk/public_html/wp-content/plugins/lightbox-plus/classes/shd.class.php
on line
1384
Warning
: preg_match() [
function.preg-match
]: Compilation failed: invalid range in character class at offset 4 in
/var/www/sydhavnstippen.dk/public_html/wp-content/plugins/lightbox-plus/classes/shd.class.php
on line
1384
Warning
: preg_match() [
function.preg-match
]: Compilation failed: invalid range in character class at offset 4 in
/var/www/sydhavnstippen.dk/public_html/wp-content/plugins/lightbox-plus/classes/shd.class.php
on line
1384
Warning
: preg_match() [
function.preg-match
]: Compilation failed: invalid range in character class at offset 4 in
/var/www/sydhavnstippen.dk/public_html/wp-content/plugins/lightbox-plus/classes/shd.class.php
on line
1384
Warning
: preg_match() [
function.preg-match
]: Compilation failed: invalid range in character class at offset 4 in
/var/www/sydhavnstippen.dk/public_html/wp-content/plugins/lightbox-plus/classes/shd.class.php
on line
1384
Warning
: preg_match() [
function.preg-match
]: Compilation failed: invalid range in character class at offset 4 in
/var/www/sydhavnstippen.dk/public_html/wp-content/plugins/lightbox-plus/classes/shd.class.php
on line
1384
Warning
: preg_match() [
function.preg-match
]: Compilation failed: invalid range in character class at offset 4 in
/var/www/sydhavnstippen.dk/public_html/wp-content/plugins/lightbox-plus/classes/shd.class.php
on line
1384
Warning
: preg_match() [
function.preg-match
]: Compilation failed: invalid range in character class at offset 4 in
/var/www/sydhavnstippen.dk/public_html/wp-content/plugins/lightbox-plus/classes/shd.class.php
on line
1384
Warning
: preg_match() [
function.preg-match
]: Compilation failed: invalid range in character class at offset 4 in
/var/www/sydhavnstippen.dk/public_html/wp-content/plugins/lightbox-plus/classes/shd.class.php
on line
1384
Warning
: preg_match() [
function.preg-match
]: Compilation failed: invalid range in character class at offset 4 in
/var/www/sydhavnstippen.dk/public_html/wp-content/plugins/lightbox-plus/classes/shd.class.php
on line
1384
Warning
: preg_match() [
function.preg-match
]: Compilation failed: invalid range in character class at offset 4 in
/var/www/sydhavnstippen.dk/public_html/wp-content/plugins/lightbox-plus/classes/shd.class.php
on line
1384
Warning
: preg_match() [
function.preg-match
]: Compilation failed: invalid range in character class at offset 4 in
/var/www/sydhavnstippen.dk/public_html/wp-content/plugins/lightbox-plus/classes/shd.class.php
on line
1384
Warning
: preg_match() [
function.preg-match
]: Compilation failed: invalid range in character class at offset 4 in
/var/www/sydhavnstippen.dk/public_html/wp-content/plugins/lightbox-plus/classes/shd.class.php
on line
1384
Warning
: preg_match() [
function.preg-match
]: Compilation failed: invalid range in character class at offset 4 in
/var/www/sydhavnstippen.dk/public_html/wp-content/plugins/lightbox-plus/classes/shd.class.php
on line
1384
Warning
: preg_match() [
function.preg-match
]: Compilation failed: invalid range in character class at offset 4 in
/var/www/sydhavnstippen.dk/public_html/wp-content/plugins/lightbox-plus/classes/shd.class.php
on line
1384
Warning
: preg_match() [
function.preg-match
]: Compilation failed: invalid range in character class at offset 4 in
/var/www/sydhavnstippen.dk/public_html/wp-content/plugins/lightbox-plus/classes/shd.class.php
on line
1384
Warning
: preg_match() [
function.preg-match
]: Compilation failed: invalid range in character class at offset 4 in
/var/www/sydhavnstippen.dk/public_html/wp-content/plugins/lightbox-plus/classes/shd.class.php
on line
1384
Warning
: preg_match() [
function.preg-match
]: Compilation failed: invalid range in character class at offset 4 in
/var/www/sydhavnstippen.dk/public_html/wp-content/plugins/lightbox-plus/classes/shd.class.php
on line
1384
Warning
: preg_match() [
function.preg-match
]: Compilation failed: invalid range in character class at offset 4 in
/var/www/sydhavnstippen.dk/public_html/wp-content/plugins/lightbox-plus/classes/shd.class.php
on line
1384
Warning
: preg_match() [
function.preg-match
]: Compilation failed: invalid range in character class at offset 4 in
/var/www/sydhavnstippen.dk/public_html/wp-content/plugins/lightbox-plus/classes/shd.class.php
on line
1384
Warning
: preg_match_all() [
function.preg-match-all
]: Compilation failed: invalid range in character class at offset 4 in
/var/www/sydhavnstippen.dk/public_html/wp-content/plugins/lightbox-plus/classes/shd.class.php
on line
700
Warning
: Invalid argument supplied for foreach() in
/var/www/sydhavnstippen.dk/public_html/wp-content/plugins/lightbox-plus/classes/shd.class.php
on line
707
Warning
: preg_match_all() [
function.preg-match-all
]: Compilation failed: invalid range in character class at offset 4 in
/var/www/sydhavnstippen.dk/public_html/wp-content/plugins/lightbox-plus/classes/shd.class.php
on line
700
Warning
: Invalid argument supplied for foreach() in
/var/www/sydhavnstippen.dk/public_html/wp-content/plugins/lightbox-plus/classes/shd.class.php
on line
707
På dagens herlige Høstpicnic-arrangement på Sydhavnstippen, med fint vejr og omkring to hundrede fremmødte (da der var flest), blev der plukket masser af vilde æbler, havtorn, mv. Undervejs på de fire guidede gruppe-ture var der hyrdehundeopvisning med Frank Hansen, og med de resterende tyve får som "ofre" – hvorefter enkelte af fårene  blev klippet (lidt mod deres vilje!). Afslutningsvis blev æblerne presset til most ved den nye Klimanaturskole, og der var prøvesmagning af snaps og vodka med smag af regnfan, pil, havtorn og gyldenris, mens der blev bagt indisk fladbrød ved ildstederne. Vært ved arrangementet var partnerskabet 'Tippen Syder'.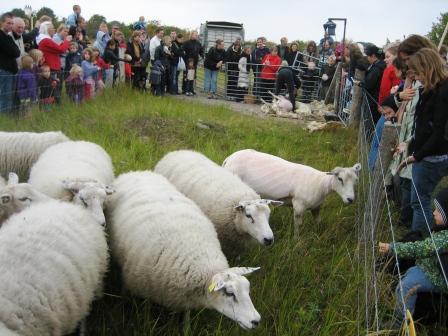 Efter at de to hyrdehunde professionelt har fået fårene ind i indhegningen, er Frank Hansen i gang med klipningen. Bemærk det nyklippede får til højre. Foto: Claus Andersen, 2009.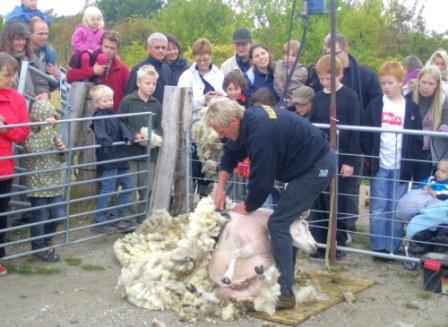 Barskt ser det ud, men fem minutter efter gumlede dyret igen på græs! Foto: Bjarne Jerup Høj, 2009.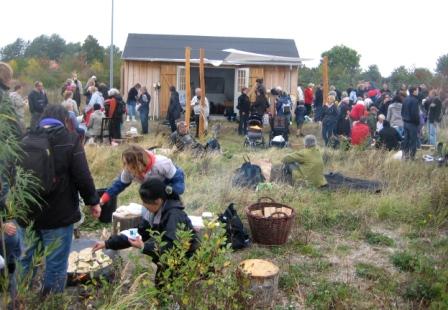 De indhøstede natur-fødevarer blev suppleret med det medbragte, hvorefter alt gik op i en højere enhed. Foto: Claus Andersen, 2009.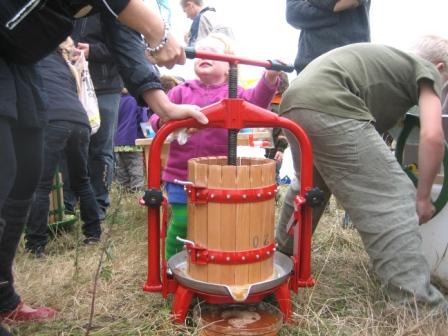 Æbleprojektet var især et hit for de mange børn. Foto: Claus Andersen, 2009.