posted by Claus Andersen in Alle
Warning
: preg_match() [
function.preg-match
]: Compilation failed: invalid range in character class at offset 4 in
/var/www/sydhavnstippen.dk/public_html/wp-content/plugins/lightbox-plus/classes/shd.class.php
on line
1384
Warning
: preg_match() [
function.preg-match
]: Compilation failed: invalid range in character class at offset 4 in
/var/www/sydhavnstippen.dk/public_html/wp-content/plugins/lightbox-plus/classes/shd.class.php
on line
1384
Warning
: preg_match() [
function.preg-match
]: Compilation failed: invalid range in character class at offset 4 in
/var/www/sydhavnstippen.dk/public_html/wp-content/plugins/lightbox-plus/classes/shd.class.php
on line
1384
Warning
: preg_match() [
function.preg-match
]: Compilation failed: invalid range in character class at offset 4 in
/var/www/sydhavnstippen.dk/public_html/wp-content/plugins/lightbox-plus/classes/shd.class.php
on line
1384
Warning
: preg_match() [
function.preg-match
]: Compilation failed: invalid range in character class at offset 4 in
/var/www/sydhavnstippen.dk/public_html/wp-content/plugins/lightbox-plus/classes/shd.class.php
on line
1384
Warning
: preg_match() [
function.preg-match
]: Compilation failed: invalid range in character class at offset 4 in
/var/www/sydhavnstippen.dk/public_html/wp-content/plugins/lightbox-plus/classes/shd.class.php
on line
1384
Warning
: preg_match() [
function.preg-match
]: Compilation failed: invalid range in character class at offset 4 in
/var/www/sydhavnstippen.dk/public_html/wp-content/plugins/lightbox-plus/classes/shd.class.php
on line
1384
Warning
: preg_match() [
function.preg-match
]: Compilation failed: invalid range in character class at offset 4 in
/var/www/sydhavnstippen.dk/public_html/wp-content/plugins/lightbox-plus/classes/shd.class.php
on line
1384
Warning
: preg_match() [
function.preg-match
]: Compilation failed: invalid range in character class at offset 4 in
/var/www/sydhavnstippen.dk/public_html/wp-content/plugins/lightbox-plus/classes/shd.class.php
on line
1384
Warning
: preg_match() [
function.preg-match
]: Compilation failed: invalid range in character class at offset 4 in
/var/www/sydhavnstippen.dk/public_html/wp-content/plugins/lightbox-plus/classes/shd.class.php
on line
1384
Warning
: preg_match() [
function.preg-match
]: Compilation failed: invalid range in character class at offset 4 in
/var/www/sydhavnstippen.dk/public_html/wp-content/plugins/lightbox-plus/classes/shd.class.php
on line
1384
Warning
: preg_match() [
function.preg-match
]: Compilation failed: invalid range in character class at offset 4 in
/var/www/sydhavnstippen.dk/public_html/wp-content/plugins/lightbox-plus/classes/shd.class.php
on line
1384
Warning
: preg_match() [
function.preg-match
]: Compilation failed: invalid range in character class at offset 4 in
/var/www/sydhavnstippen.dk/public_html/wp-content/plugins/lightbox-plus/classes/shd.class.php
on line
1384
Warning
: preg_match() [
function.preg-match
]: Compilation failed: invalid range in character class at offset 4 in
/var/www/sydhavnstippen.dk/public_html/wp-content/plugins/lightbox-plus/classes/shd.class.php
on line
1384
Warning
: preg_match() [
function.preg-match
]: Compilation failed: invalid range in character class at offset 4 in
/var/www/sydhavnstippen.dk/public_html/wp-content/plugins/lightbox-plus/classes/shd.class.php
on line
1384
Warning
: preg_match() [
function.preg-match
]: Compilation failed: invalid range in character class at offset 4 in
/var/www/sydhavnstippen.dk/public_html/wp-content/plugins/lightbox-plus/classes/shd.class.php
on line
1384
Warning
: preg_match() [
function.preg-match
]: Compilation failed: invalid range in character class at offset 4 in
/var/www/sydhavnstippen.dk/public_html/wp-content/plugins/lightbox-plus/classes/shd.class.php
on line
1384
Warning
: preg_match() [
function.preg-match
]: Compilation failed: invalid range in character class at offset 4 in
/var/www/sydhavnstippen.dk/public_html/wp-content/plugins/lightbox-plus/classes/shd.class.php
on line
1384
Warning
: preg_match_all() [
function.preg-match-all
]: Compilation failed: invalid range in character class at offset 4 in
/var/www/sydhavnstippen.dk/public_html/wp-content/plugins/lightbox-plus/classes/shd.class.php
on line
700
Warning
: Invalid argument supplied for foreach() in
/var/www/sydhavnstippen.dk/public_html/wp-content/plugins/lightbox-plus/classes/shd.class.php
on line
707
Warning
: preg_match_all() [
function.preg-match-all
]: Compilation failed: invalid range in character class at offset 4 in
/var/www/sydhavnstippen.dk/public_html/wp-content/plugins/lightbox-plus/classes/shd.class.php
on line
700
Warning
: Invalid argument supplied for foreach() in
/var/www/sydhavnstippen.dk/public_html/wp-content/plugins/lightbox-plus/classes/shd.class.php
on line
707
På lørdagens arbejdsdag i Grøn Sydhavn Naturgruppen blev der fjernet store mængder efterladt affald fra Sydhavnstippens nordende (se billederne herunder). På de to foregående arbejdsdage den 29/9 og 20/10 blev der opgravet småtjørn, opsat to mejsekasser og fjernet affald i landskabet. Sæsonen 2009 er hermed slut – næste års arbejdsdatoer vil blive annonceret i marts 2010, i menuen Nyheder/Arbejdsdatoer til højre.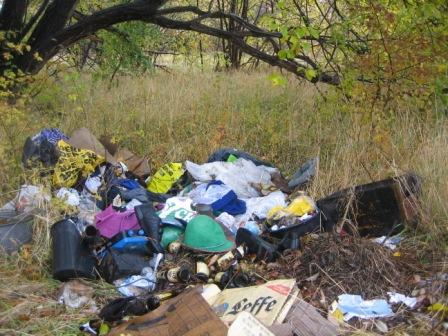 Sådan kan mennesker vel ikke opføre sig? … jo, igen og igen og igen, år efter år! … store mængder blandet affald læsses af i Sydhavnstippens dejlige natur. Andre kan så ulønnet bruge deres fritid på at fjerne det. Foto: Claus Andersen, 2009.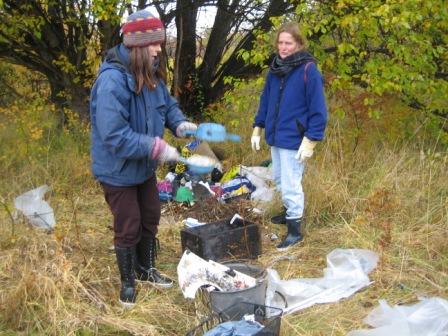 Kathleen og Eva propper affaldet i poser, mens Jakob, Britta og Helen slæber udenfor billedet. Foto: Claus Andersen, 2009.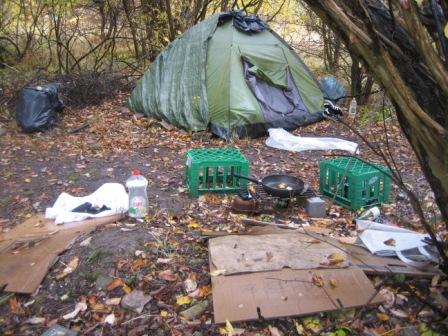 Det gentager sig hvert eneste år: Folk uden omtanke slår deres telt op i naturen og forlader al deres ulækre habengut, når efteråret sætter ind. Foto: Claus Andersen, 2009.