posted by Claus Andersen in Alle
Warning
: preg_match() [
function.preg-match
]: Compilation failed: invalid range in character class at offset 4 in
/var/www/sydhavnstippen.dk/public_html/wp-content/plugins/lightbox-plus/classes/shd.class.php
on line
1384
Warning
: preg_match() [
function.preg-match
]: Compilation failed: invalid range in character class at offset 4 in
/var/www/sydhavnstippen.dk/public_html/wp-content/plugins/lightbox-plus/classes/shd.class.php
on line
1384
Warning
: preg_match() [
function.preg-match
]: Compilation failed: invalid range in character class at offset 4 in
/var/www/sydhavnstippen.dk/public_html/wp-content/plugins/lightbox-plus/classes/shd.class.php
on line
1384
Warning
: preg_match() [
function.preg-match
]: Compilation failed: invalid range in character class at offset 4 in
/var/www/sydhavnstippen.dk/public_html/wp-content/plugins/lightbox-plus/classes/shd.class.php
on line
1384
Warning
: preg_match() [
function.preg-match
]: Compilation failed: invalid range in character class at offset 4 in
/var/www/sydhavnstippen.dk/public_html/wp-content/plugins/lightbox-plus/classes/shd.class.php
on line
1384
Warning
: preg_match() [
function.preg-match
]: Compilation failed: invalid range in character class at offset 4 in
/var/www/sydhavnstippen.dk/public_html/wp-content/plugins/lightbox-plus/classes/shd.class.php
on line
1384
Warning
: preg_match() [
function.preg-match
]: Compilation failed: invalid range in character class at offset 4 in
/var/www/sydhavnstippen.dk/public_html/wp-content/plugins/lightbox-plus/classes/shd.class.php
on line
1384
Warning
: preg_match() [
function.preg-match
]: Compilation failed: invalid range in character class at offset 4 in
/var/www/sydhavnstippen.dk/public_html/wp-content/plugins/lightbox-plus/classes/shd.class.php
on line
1384
Warning
: preg_match() [
function.preg-match
]: Compilation failed: invalid range in character class at offset 4 in
/var/www/sydhavnstippen.dk/public_html/wp-content/plugins/lightbox-plus/classes/shd.class.php
on line
1384
Warning
: preg_match() [
function.preg-match
]: Compilation failed: invalid range in character class at offset 4 in
/var/www/sydhavnstippen.dk/public_html/wp-content/plugins/lightbox-plus/classes/shd.class.php
on line
1384
Warning
: preg_match() [
function.preg-match
]: Compilation failed: invalid range in character class at offset 4 in
/var/www/sydhavnstippen.dk/public_html/wp-content/plugins/lightbox-plus/classes/shd.class.php
on line
1384
Warning
: preg_match() [
function.preg-match
]: Compilation failed: invalid range in character class at offset 4 in
/var/www/sydhavnstippen.dk/public_html/wp-content/plugins/lightbox-plus/classes/shd.class.php
on line
1384
Warning
: preg_match_all() [
function.preg-match-all
]: Compilation failed: invalid range in character class at offset 4 in
/var/www/sydhavnstippen.dk/public_html/wp-content/plugins/lightbox-plus/classes/shd.class.php
on line
700
Warning
: Invalid argument supplied for foreach() in
/var/www/sydhavnstippen.dk/public_html/wp-content/plugins/lightbox-plus/classes/shd.class.php
on line
707
Warning
: preg_match_all() [
function.preg-match-all
]: Compilation failed: invalid range in character class at offset 4 in
/var/www/sydhavnstippen.dk/public_html/wp-content/plugins/lightbox-plus/classes/shd.class.php
on line
700
Warning
: Invalid argument supplied for foreach() in
/var/www/sydhavnstippen.dk/public_html/wp-content/plugins/lightbox-plus/classes/shd.class.php
on line
707
Miljøstyrelsen anbefalede tilbage i 1997 at alt nyt boligbyggeri blev beskyttet mod skydebanestøj efter de strammere regler for "nye skydebaner" – en anbefaling som Københavns Kommune valgte at se bort fra da bydelen Sluseholmen blev bygget. De nye beboere havde nok ikke lige regnet med at deres ophold på altanerne skulle akkompagneres af borgerkrigs-larm fra Københavns Skyttecenter på Amager!
I 2014 reviderede kommunen miljøgodkendelsen for Københavns Skyttecenter, men i sin helhed er skyttecenteret (som nu er opdelt i henholdsvis Københavns Skyttecenter og Københavns Flugtskytte Klub) stadig ikke reguleret efter retningslinjerne for "nye skydebaner", heller ikke efter den fulde indfasning af de planlagte støjreduktions-tiltag i 2022, med påbegyndelse i 2015.
Nu planlægges der så igen en ny bydel i nærheden af skyttecenteret, denne gang Bellakvarteret ved Bella Centeret og Bella Sky hotellet (se luftfotoet herunder). Det forventes at 1.800-1.900 boliger står klar om 4-5 år, bl.a. rækkehuse eller byhuse med små haver ud mod golfbanen … og altså skyttecenteret. BR-politikerne vedtog den første lokalplan for området i slutningen af 2014, uden at der foreligger et "støjkonsekvensområde" (læs herunder).
Grøn Agenda Sydhavn klagede i august 2014 til Natur- og Miljøklagenævnet over to ting i kommunens miljøgodkendelse(r): 1) Opdelingen af Københavns Skyttecenter i to selvstændige enheder som i sin helhed ikke støjreguleres som "nye skydebaner", og 2) At der ikke er udarbejdet et "støjkonsekvensområde" med indtegnede støjkurver hele vejen rundt om skyttecenteret (efter fuld indfasning af støjreduktions-tiltag i 2022), som beskrevet i miljøstyrelsens vejledning. Hvis ikke vi får medhold i klagen vil hverken Sluseholmen eller Bellakvarteret være sikret den af Miljøstyrelsen anbefalede beskyttelse fra skydestøj i 2022.
Forvaltningen har for øvrigt "fejret" det første forår med de reviderede miljøgodkendelser, ved at give skyttecenteret dispensation til at larme to timer ekstra langfredag den 3. april 2015.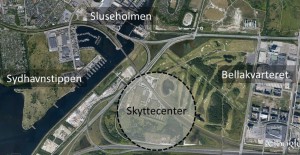 Her ses placeringen af den fremtidige bydel "Bellakvarteret" nogle hundrede meter fra skyttecenteret. Illustration v/ Claus Andersen, 2015.